UP TimeUPS HAT for Raspberry Pi
[
element14-2803788
]
UPtime UPS Hat for Raspberry Piは、Raspberry Pi向けのUPS HATです。Raspberry Piを連続稼働中に停電が発生した際に、Raspberry Piのハードシャットダウンを防ぎ、データ破損、起動用ディスクの破損を免れることができます。 また、バッテリーの電圧が降下した場合には、ソフトウエアーで自動的にシステムのシャットダウンを実行する事ができます。
この商品はRaspberry Pi 3 のほか、Tinker Boardでも使用可能です。
1) Battery backup power and UPS.
Pi-UpTimeUPSは、使用しているバッテリーの種類にもよりますが、Raspberry Piで最大約10時間の動作ができます。 実際に動作試験を行った際には、18650-3000mAhのバッテリー2本をフル充電し、Pi3 model BのWi-Fi,Bluetoothを動作させて凡そ12時間近く持続できました。実際には、使用しているRaspberry Piと周辺機器の動作状況に深く依存した持続時間になります。バッテリーの充電は凡そ5時間で完了します。
2) Provides steady power to the Raspberry Pi.
Pi-UpTimeUPS はRaspberry Piの停電や供給電力不足によるダウンタイムから保護してくれます。Pi-UpTimeUPSは外部電からの電源供給を受けられ、Raspberry Piの動作を妨げることなくバッテリーを充電できます。新たな電源を確保することなく、Raspberry Piへの電源をPi-UpTimeUPSで使用できます。
3) Automatic recharge.
Pi-UpTimeUPSは停電復旧後、自動的にバッテリーの充電を再開します。
4) Auto shutdown.
ハードウエアでバッテリーの充電レベルをモニターできます。GPIO 26,37でステータスを表示します。サンプルコードには、バッテリーレベルのステータス確認と、バッテリーレベル低下時のRaspberry Piのシャットダウンシーケンスのサンプルプログラムが含まれています。ダウンロードはこちらのサイトより可能です。http://alchemy-power.com/downloads/
5) Power Reset switch.
Pi-UpTimeUPS allows a restart of the Raspberry Pi after a software shutdown or whenever needed. With Pi-UpTimeUPS, there is no need to plug or unplug the external power source to reset the Pi. A Power-Reset switch on Pi-UpTimeUPS resets the Pi after a shutdown. A red LED turns on to signal the Pi power reset. There is also an additional connection for an external reset switch. Should you plan to use an external switch or encase the Pi (with Pi-UpTimeUPS) in an enclosure, you can use this connection point to connect an external reset switch. The external switch has to be normally off, with momentary on toggle.
6) Battery Protection.
The battery is protected in several ways:
A temperature sensor monitors the temperature and suspends charging operation if the temperature rises to unsafe levels.
An onboard chip protects the batteries from over charging or over discharging ‐ both of which could damage the batteries.
The battery charging circuitry manages the charge level so that the batteries remain charged.
The charge power level is maintained so that the Raspberry Pi and its peripherals get the priority in operation over battery charging. Thus, if the Raspberry Pi demands more power, the battery provides it and resumes charging after the demand for the additional power is fulfilled.
A fuse protects the 3.3V power supply to protect against short circuits.
The protections not only protects the battery from damage, it also extends the useful life of the battery.
7) Software.
Python code provided for download for Pi-UpTimeUPS includes sample code for using the analog ports. Instructions are also provided for setting up the RTC. The software can be downloaded from the web as well.
8) UPS power sources:
3.3V and 5V UPS power is provided. Note the 3.3V power is not tapped from the Raspberry Pi. It is regenerated from the UPS and the batteries. A maximum of 800 mA of power can be drawn from the 3.3V power source.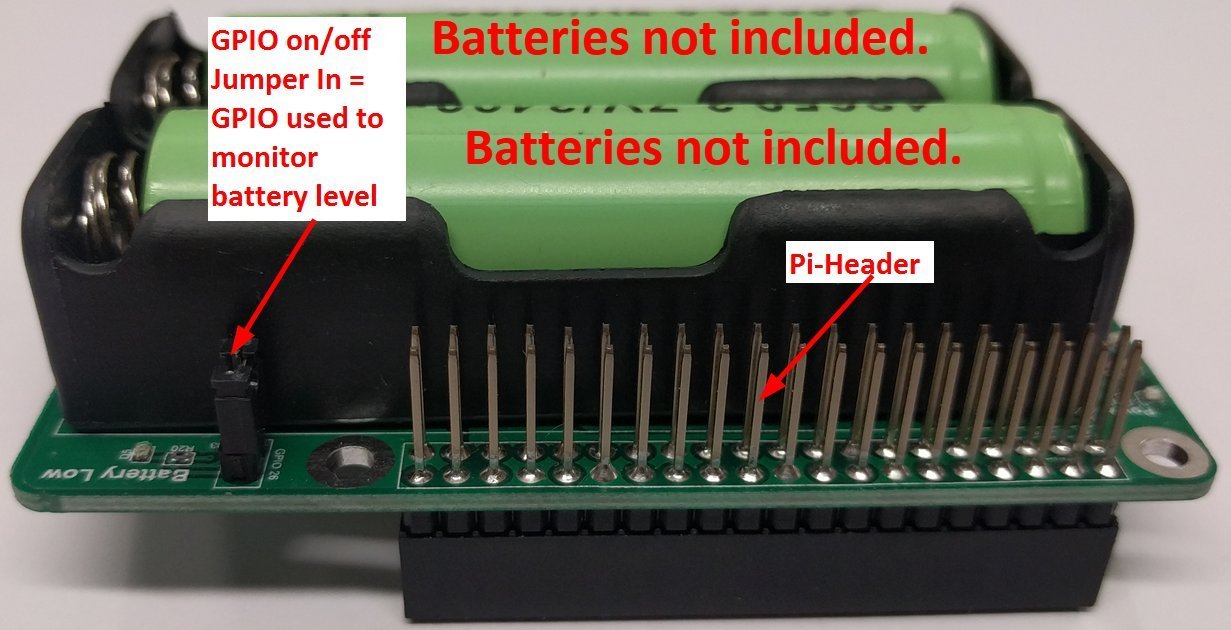 多段積み使用
下の写真のように重ねて使用することによりバッテリー駆動時間を延ばすこともできます。
、
ダウンロード : ドキュメント&ドライバー
同梱物
バッテリーは付属しません。
スペック
使用可能モデル
40Pin header仕様のRaspberry Pi、及び Tinker Board
例: Pi 2, Pi 3, Pi Zero, Pi Zero W etc.
26-pin header モデルはサポートしません。
Power
Input Power: 5V via micro USB connector on PiZUpTime.Batteries are not charged if the micro USB connector is not connected to Power connector on Pi-UpTimeUPS.
Power Adapter: Not included.
Maximum Current: 1.6 Amps total. This is used by 5V (Pi, USB etc.) and 3.3V power.
Maximum 3.3V UPS current: 700 mA. 3.3V is generated by Pi-UpTimeUPS.
Ripple: Less than 25mV p-p.
Operating Frequency: 18.5kHz.
Battery Low Trigger: 3V
Battery Low hard-shutdown: 2.8V
Output
5V UPS Power: Power provided to the Raspberry Pi via the 40-pin header, pin 2. 5V UPS power can be accessed via micro-USB out connector.
3.3V UPS Power: 3.3V UPS Power is generated and available via the connector on the board. 3.3V Power from the Pi is not used.
Batteries
Batteries: Two unprotected2 18650 Lithium-ion batteries. Batteries are not included.
Battery capacity: Recommend 2000 mAh to 3500 mAh capacity battery.
LEDs: Battery charge status & other information is shown by LED's on the board. Reset LED is lit when reset. 2 Protected cells will not fit in the battery holder.
Battery monitoring: Via Pin37, GPIO 26. GPIO low to high when Battery is 3.0V or less. Hard shutdown when battery is 2.8V or less. Monitoring available via sample python code.
Battery polarity: Both batteries are inserted with positive polarity on the same side. Reversing battery polarity can cause irreversible damage to Pi-UpTimeUPS board.
Battery holder: Self-extinguishing Thermoplastic Polyester, black color.
Safety: Onboard circuitry prevent over charging, deep discharging. Temperature monitor checks temperature and shuts down charging if it becomes too hot.
Battery Charging: Uses CCCV charging method.
Depleted Batteries: Uses low current charging to bring charge level up and then CCCV charging.
Spacers
M2.5x23mm spacers recommended.
Reset Switch
Reset Switch: Reboots the Raspberry Pi after a shutdown.
External Switch: Connection points on the board for external normally-off, momentary-on reset switch.
Dimensions
Board dimensions: 83mm x 70mm x 35mm (3.3" x 2.2" x 1.4").
Weight: About 50g (1.7 oz.) without batteries. Note each battery adds approximately 50 grams of weight.
Header: Female pins on bottom. Male pins on the top. Pin thickness appx. 0.6mm. Female pin height appx 11 mm. Male pin height appx 10.25 mm.
UP TimeUPS HAT for Raspberry Pi
[
element14-2803788
]